Indoor activities
The play areas at Mulberry Corner are not categorised by age. This means that no child spends all their time in one room but rather is able to explore the whole nursery each day. The nursery and the preschool are each divided into four rooms (including an outdoor area each side).
Below is a short summary of each indoor room:
Nursery interest room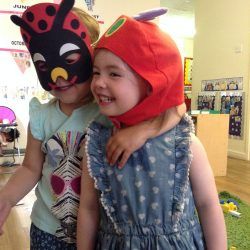 The interest room contains our small world area, with lots of natural resources on offer to compliment the children's play. Our block play is also located here, with various supporting toys and equipment to help with the children's development of STEM (science, technology, engineering and maths) skills.
The children have access to many different themed boxes, which can be used in any room. Examples of our themed boxes include the Circus, Outer Space, the Gruffalo, Mr Men and Little Miss, The Hungry Caterpillar and Mr Tumble.
The open storage in this room allows the children to choose which toys they wish to play with – puzzles, sorting equipment, puppets, construction etc. The toys located within the open storage are changed regularly to reflect the children's interests and to ensure variety.
Preschool interest room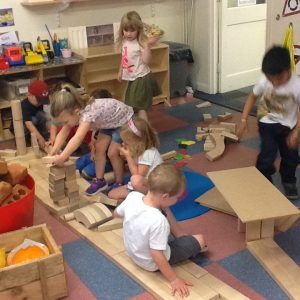 The interest room contains our construction area, where the children can build with blocks, use our tool kit or even pretend to be a construction worker for the day. Our small world area is located here too where the children have opportunities to explore animals from around the world, mini-beasts and birds, dinosaurs, different transport and play people.
Our carpet area is also located in this room which is used for group times and story times. There are puppets for storytelling and a large selection of books. The children have a wide range of musical instruments together with CDs ranging from classical to Bollywood music and lots in between. The children love using our recording photo album and recording buttons, which they can use in any area to enhance their play.
Nursery art room
The art room is located in our conservatory, which provides lots of natural light for the children's artistic creations. The children have opportunities to explore a variety of materials, tools and techniques and are able to experiment with colour, design and texture.
Sand and water play is also a popular choice in this room. Our art room contains a dedicated writing area with writing pencils, crayons, felt tips, colouring pencils and a variety of different paper.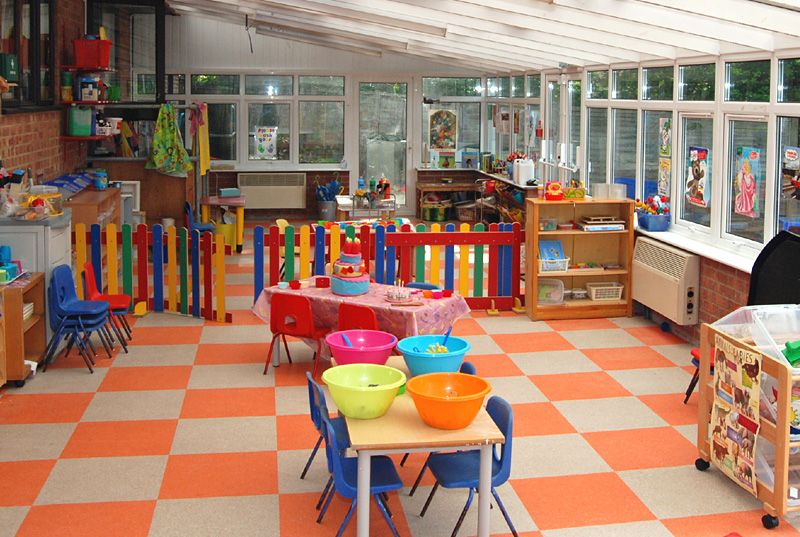 Preschool art room
In our art room, the children can paint at easels or at one of our art tables. They are able to explore a wide variety of materials, tools and techniques and can experiment with mixing colours and textures. Children have access to collage tubs to enable them to collate the resources they wish to use for their art work.
The children have access to playdough, clay, pasta and other tactile resources such as baked beans and shaving foam. There are also opportunities for them to create 3D models using recycled materials. Our art room contains a sand area where the children are able to play with dry and wet sand and a large water tray. There is open storage with buckets, spades, forks, moulds, funnels, boats, various containers, floating and sinking toys and fishing nets.
Our art room contains an investigation area where the children can look at magnets, different types of shells, use magnifying glasses and experiment with colour mixing. There are torches, wooden spinning tops and books setting out simple experiments. They have opportunities to look at different herbs, sensory foods and our collection of sensory balls. The resources in this area are constantly changing to reflect the children's interests at the time.
Nursery role play room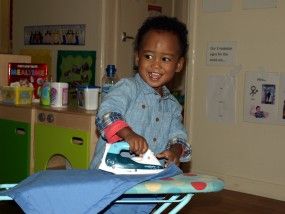 Our role play room contains our wooden home corner where the children can make sense of their world and act out experiences. This area can be set up as a supermarket, a restaurant, a shop, a home, a hospital, a veterinary centre, outer space – the list is endless.
There are also writing materials for the children to use as part of their imaginative play and a huge magnetic emotions board and supporting props through which the children can explore their various emotions.
There is also a cosy corner with a selection of large cushions and books to expand the children's knowledge of the world, other people, different cultures and traditions and imaginary themes.
The Pips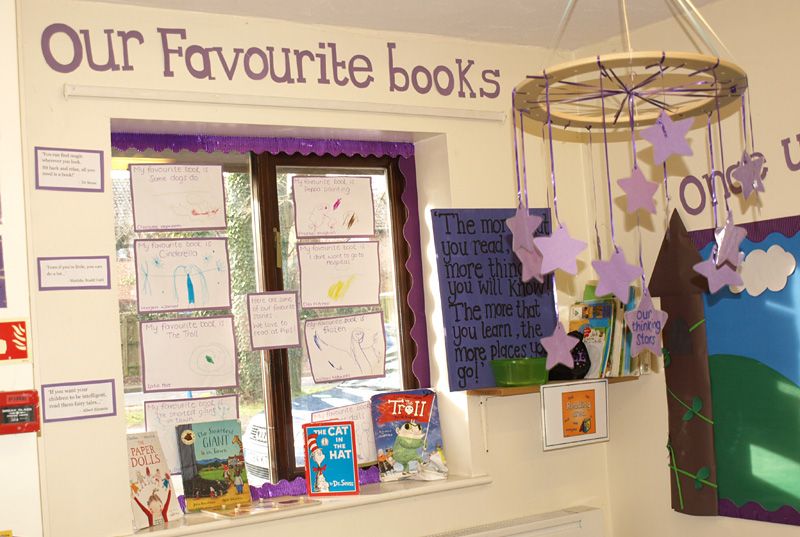 Our main preschool room contains our home corner, which is always a firm favourite with the children. A dedicated maths area can also be found here with resources to help with sorting and weighing, shape stencils, counting games, puzzles, compare bears etc. There is a computer in this area to enhance the children's learning and turns are monitored using a sand timer. We have a dedicated writing area where the children can practice various mark making techniques. There are lots of supporting resources to assist the children with letter recognition too.