Outdoor activities
Our garden and outside areas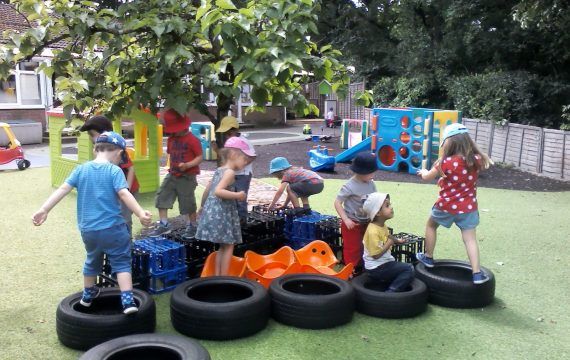 Our newly refurbished large outdoor garden provides fantastic surroundings for safe exploration, physical development, and a place where children can experience being part of a thriving natural environment. The garden is made up of many different areas, which are designed to provide the same learning opportunities outdoors as exist inside.
There is a designated reading area with a reading shed full of books and outdoor cushions and wooden sofa for the children to sit on. We have a literacy station which provides a surface to write on as well as lots of crayons, pencils, paper and clipboards. Our large planters contain flowers, vegetables and herbs (all grown by the children) as well as a small world area to enable imaginative play in a natural environment. We have an all-weather surface which is accessed directly from our conservatory.
Leading off this we have a large artificial grassed area, complete with a tactile path and mini hills for the children to climb. The garden incorporates balancing beams and stepping stones. There is also an outdoor home corner, a weaving wall and lots and lots of crates and tyres which can be used to make anything within your child's imagination. The garden is framed on one side by a row of protected oak trees and in the middle there is, of course, a mulberry tree!
Our garden is used by the children every day. Our motto for outside play is "there is no such thing as bad weather, only bad clothing".
Both our nursery and our preschool have their own outdoor areas, which are used as part of our free flow routines. These outdoor rooms ensure our children have the opportunity to be outside whenever they wish, and not just at their
designated garden times. Both outdoor areas house a large wooden mud kitchen as well as providing space for lots of messy activities such as car washing, splatter painting, sand and water play.
Part of the preschool's outdoor area is dedicated to our secret garden, which provides the children with an area for den making and imaginative play. In summertime, the secret garden provides natural shade for picnics and story times.
Our Forest School Programme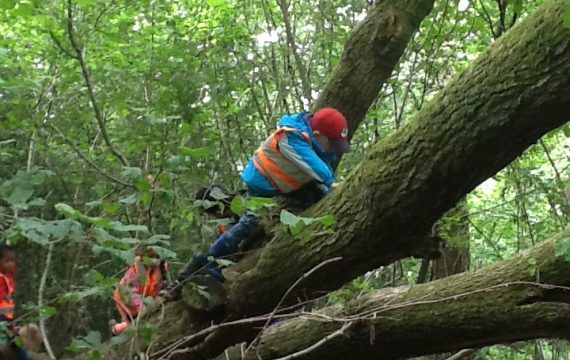 We offer all our preschool children the opportunity to participate in forest school sessions during their time with us. Our sessions are led by a fully qualified Forest School Leader (from Kindling Forest School) and are supported by three Mulberry Corner members of staff. Our forest school partner, Kindling Forest School, is a dedicated forest school provider which was established in 2014 to give families and young children a forest school experience that is as true to its Scandinavian roots as possible.
The Forest School Association describes forest school as "an inspirational process that offers all learners regular opportunities to achieve and develop confidence and self-esteem through hands-on learning experiences in a woodland or natural environment with trees."
Managed risk taking is part of forest school. Fire, tools and climbing are introduced once deemed appropriate for learners. Forest school aims to promote the holistic development of all those involved. This includes encouraging resilience, confidence, independence and creativity.
Forest school is learner-centred where the interests and needs of learners come first, and are supported by careful observation and planning that builds on previous learning. The children are given choice about what they want to do and time to play, and play is recognised as vital to learning.
Our forest school runs as a weekly 2 hour session and takes place in nearby Titlark Copse woods, which is just a 5 minute walk away from Mulberry Corner. We offer 6 week courses at an additional cost of £40 per course.
We try to ensure that each course is offered on a different session to enable as many of our children as possible to experience this unique way of learning.